Rachelle Preston is a self-taught garden-planning mentor, medicine-maker, and permaculture studyer and practicer living in Ontario, Canada. Born and raised in Calgary, Alberta, Rachelle grew up dedicated to healthy and sustainable food with a desire to get even closer. Now, with over 15 years of relevant education, interest, and skills, she created three gardening courses so new food growers can defeat overwhelm.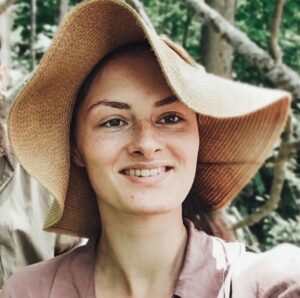 ---
Over the last 6 years,
She has been cultivating plants indoors, on her apartment balcony, working for nurseries, and now faces the great task of an ever-expanding homestead.
Aiming to grow a year's worth of food for her family, she has discovered what it means to be in the shoes of beginners. To solve her own problems, Rachelle created the Growing Your Food Goals garden-planning series where she designed the ultimate system (a new strategy found nowhere else) for new vegetable gardeners to plan "what, when, how much, & where" for their unique situation. The series includes the: Companion Planting Matrix, Garden Harvest Calculator, and Custom-Climate Garden Schedule.
To ensure the planning processes fill the gaps for other beginners, she volunteered to work one-on-one to help 3 people who live in different parts of the USA & Canada. Sharing her spreadsheets, she successfully coached each individual through the process of using them effectively which has become a course now available to you!
As we "speak" Rachelle is on 9 acres of woodland and currently planning or planting the food forest, perhaps fine-tuning the deer fence around the vegetable garden while making time to write about her experience.
Prior Life
Her first little garden…
The days before she actually committed to plant-baby care, she attempted to dig up a patch of sod for a small garden at the age of 8 only to lack the strength. With the help of her father, her garden wishes, starring a fluffy Artemesia bush (and more), came true.
From then on she was a suburban backyard and garden upkeep assistant. By age 12 she passionately began cooking healthy whole-food meals and later became a certified nutritionist and nutrition planner by the age of 19.
Later, unsure of which direction to commit to, she studied at the Centre of Art and Technology to gain digital art and general computer skills.
Presented the opportunity to "be the gardener," and live with land on a family homestead; everything was dropped.
Priorities were shifted.
Today,
Rachelle combines her skills and life-long passions into helpful public tools, goods, and services. She gave up many conveniences for this opportunity, formed the Food Forest Living website, and is dedicated to building food security skills through homesteading.
Every day she learns—do explore her blog because she writes it all for you!
---