This post may contain affiliate links. If you use these links to buy something we may earn a commission. Thanks.
The best gifts are useful gifts, so mushroom lovers aren't hard to shop for, and this list offers no shortage of practical presents.
I asked hundreds of mushroom lovers and hunters about the best gifts they've received and what they would want.
I was flooded with thoughtful answers and assembled the best mushroom gift list. Here are the sections of this post:
In general, fresh wild mushrooms, a special knife, a handmade basket, joke t-shirts, mushroom tinctures, drink mixes, local foraging books, and plugs and logs made the top of the list for the most desired gifts. Mushroom lovers know what they want, and now it's a matter of what the receiver needs.
For each gift item, you'll find the top picks and brands to buy from, who they are most useful for, and why it's a good idea—As well as gifts that not even mushroom lovers could think of!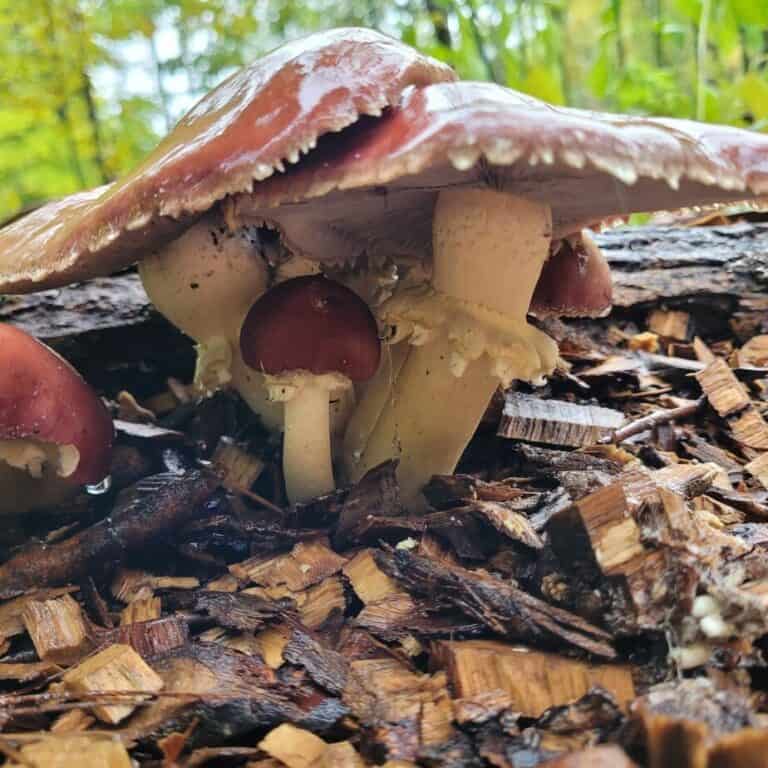 ---
Jill, a mushroom hunter, shared the best (and worst) mushroom gift she had gotten in the mail:
"My parents MAILED me a care package…a small box of washed and cut fresh morels wrapped in paper towels… They kept calling me daily to see if anything came in the mail, but wouldn't tell me what to expect… Two weeks later a TERRIBLE smelling package arrived!"

– Jill, an appreciative mushroom hunter who loved the sentiment.
Useful gifts for mushroom hunters
Mushroom hunters want one thing: to find wild mushrooms.
Truly, the best gift for mushroom hunters is to find and reveal an amazing spot to harvest morel mushrooms.
If you're unable to do that, then the following choices are practical for both you and your friend.
Handcrafted mushroom knife
---
Mushroom hunters need a good knife for picking mushrooms properly! A clean cut with a knife prevents dirt from getting onto the mushroom and causes the least amount of disturbance to the site.
A sharp knife makes for a quick, easy, and clean cut.
Long Coast Workshop makes beautiful handcrafted knives for mushroom foraging. They have a natural horse-hair brush on the end to rid any dirt on the mushrooms.
Rainy weather gear
Mushroom hunters are most likely going to spend the time and gas to forage in humid and cool conditions as that's when mushrooms tend to fruit.
Rainy weather gear could be a quality rain jacket or new rubber hiking boots.
Practical bug protection
Mushrooms and mosquitos thrive in rainy or humid conditions!
Caution: these hat nets are often hard to see through, so I specifically recommend a light-colored mesh. In my experience, brighter meshes are easier to see through and the reviewers agree.
Mushroom hunters need an unobstructed vision for spotting mushrooms! So if you want your gift to get used, I don't recommend getting black or dark green colors.
Nail scrubber
A nail scrubber is a thoughtful addition to a mushroom-themed gift basket. It shows you thought about the process of foraging mushrooms and how hands might get unexpectedly dirty!
Even after washing your hands, the soil stays under the nails. A nail scrubber can be brought on a foraging trip or left by the bathroom sink at home.
Handmade foraging basket
---
These baskets are gorgeous, and I want one. But I shouldn't I have plenty of thrifted baskets already.
But if you know a mushroom hunter who loves baskets, look no further than the Stick Knitter Etsy shop!
I recommend Etsy a lot in this post because their products are often handcrafted by small business owners who put a lot of love into what they sell. Products from Etsy don't feel factory-made which adds a special touch to your gift.
Mushroom-picking bag or backpack
For those who bring home mushrooms by the caseload, these backpacks are game changers.
Maybe they have one already and it gets too full, too often, cutting their foraging time down.
These handy mesh bags fold up and can be brought along as an extra.
---
We had to stop foraging many times because our baskets were full. While we don't feel that way every day, sometimes we unexpectedly would prefer to keep going—but can't.
We fixed this problem by packing extra mesh bags, now we have more bags that we need and it's a lot better than falling short.
Local foraging book
Don't grab just any foraging book—Look up the best mushroom foraging books for your local area.
Mushroom types and seasonal timings are different for every area.
Some options could be:
But many mushroom books exist by experienced local foragers.
For the general mushroom forager who loves morels, get them all the secrets from a specialty book:
Delicious gifts for mushroom eaters
Mushroom gobblers want one thing: to taste delicious mushrooms.
High-quality and fresh gourmet mushrooms are hard to come by and when you do, they are expensive. Horrible-looking expensive mushrooms are usually what we find at the grocery store.
So the best option for enjoying the best mushrooms, and any food for that matter, is to grow them yourself!
Mushroom kits
Mushroom kits are a done-for-you grow bag. You open them, keep them moist, and 2-3 flushes (rounds) of mushrooms will grow!
They are perfect for anyone who hasn't grown mushrooms before since they are so easy.
Kits are ideal for tasting all the types of mushrooms you want before committing to growing any one type on a bigger scale. You'll be able to taste them all, then pick your favorite to cultivate!
Indoor mushroom cultivation stations
If the gift receiver doesn't have outdoor space for growing mushrooms or access to logs, or fresh woodchips, then indoor mono tubs or boom rooms are spaces to easily grow mushrooms indoors!
The boom room will offer the space to grow a lot of mushrooms. The cultivation supplies (grow bags and liquid cultures) are cost-effective ongoing 'operating' supplies that any grower will need. These methods are cheaper than buying pregrown gourmet mushrooms from any store.
Both chambers are currently 20% off plus QUALITYSPAWN will provide an additional discount on any orders.
For the ultimate mushroom lovers' birthday, a family could pitch between a few kits, a boom room, substrate grow bags, and a voucher for choosing liquid cultures after tasting the kits! After that, you'll all enjoy the highest quality mushrooms at a low ongoing price.
Vouchers for quality mushroom products are always a fail-safe if you don't know what stage of mushrooms your enthusiast is at.
Mushroom plugs for outdoor growing
---
Mushroom plugs are used to make mushroom logs! This is ideal for anyone with a chainsaw and access to woodland. Fresh-cut trees are a must!
See: Complete Guide to Using Mushroom Plugs for Big Harvests
Mushroom cultivation guides or books
A guide to cultivating mushrooms helps inspire and direct beginners toward success. Growing mushrooms, in general, is pretty easy. Even easier with the right information.
Paul Stamets's guide to Growing Gourmet & Medicinal Mushrooms is a highly detailed choice for those who want to learn how to grow their own favorite food (mushrooms).
But plenty of great books exist!
(Surprisingly) Northspore actually offers Paul Stamets's book for cheaper than Amazon along with several other renowned texts.
Garlic seeds
---
As a mushroom lover and hunter myself, I know I'm not alone when I say mushrooms cooked with garlic are the best.
The best mushrooms I've had were shiitakes cooked in fresh homegrown garlic. It wouldn't have been the same without high-quality garlic.
Garlic is very easy to grow, so if you're gifting anyone with a backyard, they may love to learn to grow their own garlic!
Where should you buy garlic seeds?
If you know they love garlic, gift them a link to this post: How Much Garlic to Plant for a Year's Worth of Family Use—it'll help calculate how many cloves to grow for a year's worth.
Best gifts for mushroom health-benefit enthusiasts
Health nuts who know of mushrooms want one thing: their benefits on brain longevity.
Mushrooms come in several forms! Alcohol extracts are the most potent and bang for your buck, and some powdered forms are pretty delicious.
Mushroom tincture
---
Anyone with a suppressed immune system or concerns about memory and brain functions would love to try mushroom tinctures!
Mushroom tinctures offer a host of compounds with substantial benefits.
The immunity mushroom blend includes chaga, reishi, maitake, and shiitake. Multiple mushrooms in one tincture offer a broader range of benefits from each strain.
Northspore offers explanations of each mushroom type under "bioactives."
Personally, I'd choose tinctures made from reishi, chaga, turkey tail, and other mushrooms that aren't 'eatable' in a meal. The fruit of these mushrooms is too tough for eating fresh and can only be consumed powdered, in a tincture, or brewed for 6 hours into a tea.
Mushroom hot chocolate
Some mushroom lovers are also chocolate lovers!
Hot chocolate is my favorite way to consume powdered mushrooms (other than sauteed in a pan).
Real Mushrooms hot chocolate mix is a decadent healthy drink, and it won't be long before we order again.
If you're searching for a gift for me, please buy me 5 packs (minimum). Use code 'TASTETEST' for a discount!
Mushroom coffee
We've been wanting Mud water. But we are afraid to get hooked, so we haven't gotten it, but I guess that's the point though!
If your receiver has ever talked about ditching coffee but doesn't walk the walk, maybe Mud water is the game changer they need.
Otherwise, maybe it's just a good treat instead of coffee once in a while.
Unique art & decor for mushroom lovers
Each person is unique, and so a unique gift for a mushroom lover is combining mushrooms with what you know they love or do!
So I hope these ideas can bring out the most thoughtful choice.
Commission them for their services
Sarah's best gift was when she was commissioned to paint "one of her mushroom ladies." She went on to detail that "the client took my painting to her tattoo artist… along with 3 of her friends."
For artists, the experience of having their art appreciated, used, worn, or displayed, in any way, is personally touching like nothing else.
If not a tattoo, put their art on a pillowcase, in a frame, or on clothes.
Mushroom versions of their favorite clothing
A mushroom shirt is one thing and might even be perfect, but what's more personal is getting a mushroom version of what you know they love to wear.
Mushroom clothing is certainly hit-and-miss. But pay attention to their favorite clothing colors and styles, and find something similar, but mushroom style.
If Etsy and Amazon don't have anything you like, try specialized clothing shops like Hippieshop.com
Mushroom terrariums
Does your mushroom lover happen to love houseplants too?
Terrariums are a popular addition to indoor jungles!
They come in all sorts of sizes.
Mushroom lamps or night lights
Amazon and Etsy both have an amazing selection of mushroom lamps—I might just gift one for myself.
You could do indoor or outdoor mushroom lights, whatever is most appropriate for the receiver.
Glass mushroom lamps are gorgeously psychedelic! But more plain wooden or 'marble' lamps are also a thing and very cute.
---
I'd suggest a table lamp if you know they have a table that could use a lamp, or if they just moved into a place and lack furnishings.
If they have established decor and furnishings, then a simple night light, or mushroom twinkle lights would be better!
Recent Posts