---
Got a yard or a bit of land you'd like to turn into nourishing food? You're in the best place!
Our goal at Food Forest Living is to make growing a wide variety of food as straightforward as possible. I'm Rachelle (you can say 'Rachel'), an active food grower, catcher, and forager.
We grow annual & perennial vegetables, mushrooms, and soil—All of which happen in our "food forest."
Our principles around cultivating a food-filled environment include: plotting a plan, scheduling seeds, building good soil, protecting your plants, and diversifying what we grow and where. In our content, you'll learn all about growing vegetables, mushrooms, and perennials for your very own food forest.
For larger spaces, we encourage growing more passive food sources, such as mushrooms and producitve perennials.
In a designated space, or within a food forest, you can maintain beds for annual vegetables and learn the easiest ways to keep them weed-free.
Categories:
Budget, decide, commit, and succeed:
---
Even if you aren't big on planning, growing food gets a whole lot easier when you do!
I was so overwhelmed when I had a big garden in front of me; wanting to know where to put everything and when.
But with a simple way to keep records of my garden, I was able to follow along without a second thought. Even better, we improve our processes and yields year by year.
(Budget) Understand the cost of time and money:
Every component of growing food costs either time or money. My mission is to help you in this balancing act and find the right center point for you.
Food Forest: How Much Our Food Forest Costed & How To Spend Less
Vegetables: Save Money & Grow the Vegetables That Cost You Most
Mushrooms: What it Costs to Grow Mushrooms (Indoor vs Outdoor)
Fencing: 12 Ways To Save Money On (Effective) Deer Fencing
(Decide) Observe, plan, and make good placement choices:
---
Observing your landscape will go a long way toward optimally positioning perennials or vegetables so you'll have less work.
Every place is different, so you'll need to know how to do your own mapping, scheduling, and journalling to create the best plans and adjustments for you.
A map for perennials is vital for a food forest. It'll prevent you from buying random plants that sound good on a whim, and actually know what you want to plant where so you have food and medicine you'll actually use or eat.
How To Map Out Your Food Forest (Full Walkthrough)
Plants for:
When to plant What vegetables:
A spreadsheet schedule is how I went from growing only tomatoes, to every vegetable I wanted. Before, I didn't grow more than one type of crop as I couldn't wrap my head around when to plant what vegetable, indoors or outdoors(?), etc.
Best Vegetable Garden Spreadsheet (Custom Google Sheets Planner)
Get a bigger and longer harvest every year:
The commitment to record-keeping was hard until I had that week-by-week schedule to follow. As I'm prompted weekly sowing/transplanting/etc tasks, I record what I actually get done. By the end of the year, you'll see all the harvest-window gaps and discover opportunities to fill them.
3 Essentials to Keep a Garden Journal You'll Use
Consider growing mushrooms in one or more ways:
Mushrooms are excellent for your soil, and you! If you are a mushroom-lover then fresh gourmet strains are going to right up your alley. Grow mushroom beds or logs in all the shady places of your property so no space goes to waste.
Not only will you get to eat mushrooms, but your perennials will love the mushroom compost.
6 Ways to Grow Mushrooms at Home (In + Outdoors)
(Commit) Protect Your Plants Before Planting: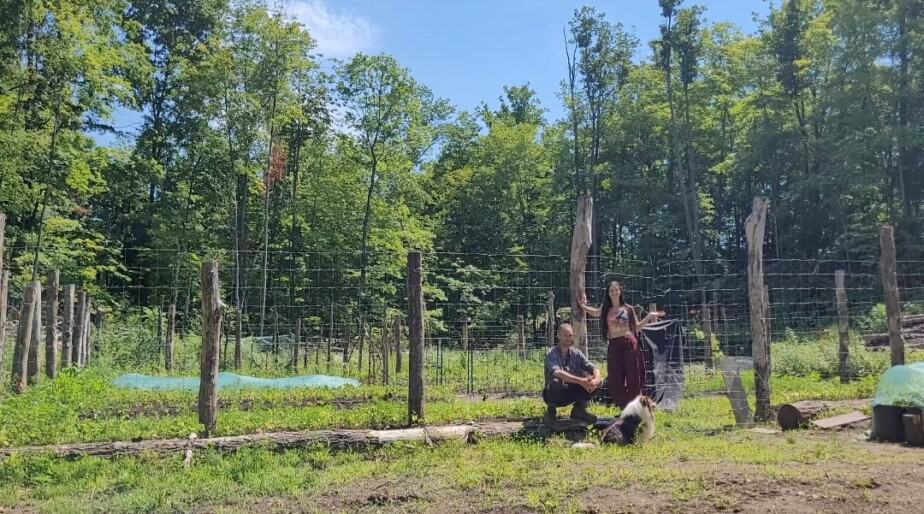 ---
If animals, such as deer, are in the area, you'd be wise to fence off young trees and shrubs. We made the mistake of planting trees without a fence, and many got chopped down to nothing.
To this day, they struggle to grow. We could have saved a ton of money had we been proactive.
Structure: The Best Fence to Keep Deer Out (Cheaper & Easier Too)
Deterrents: Schedule to Keep Deer Out of The Garden Without A Fence
Design: Forest Garden Design for Wind Protection in Cold Climates
Micro-climate: Fast-Growing Shade Trees Zones 5-8 (Best Picks & Why)
(Succeed) Grow the Right Plants in the Right Quantities:
The right plants will depend on your climate and conditions!
Choose plants that grow well in your area, and that you'll actually eat. Finally, save time, space, and energy by growing the right number of plants for the harvest you want.
Fix the soil:
Manage Weeds:
A Gift For You: When you sign up for my Newsletter, you'll receive my Free Replanting Garlic Calculator. No more soft, moldy, or chemical-bathed store-bought garlic—Because you'll know how many cloves to plant for (1) a year's supply of the freshest garlic to eat, (2) for replanting, and (3) replanting-replanting!
More details: How Much Garlic to Plant for a Year's Worth of Family Use
Thank you for stopping by! Be sure to bookmark us and make the most of each garden season.