Starting near the beginning of the pandemic, Food Forest Living is helping you turn a seemingly impossible vision into the straight-up steps it will take you to grow the right volume of food for your family. We help you grow vegetables, plant food forests, and connect with your local community by sharing our experience and custom garden planning tools.
---
Finding Our Way
Provincial borders were closing, and grocery stores were crammed.
We stocked up on a few bags of dry legumes, and some canned goods, and lucky for us, we already had a giant box of sustainable toilet paper from Who Gives a Crap. (Over 50 rolls!)
It became obvious that no amount of stocking up would actually solve the problem we feared.
So instead of stock-piling, we packed up everything we owned and crossed the country to live off-grid on 9 acres of cottage territory.
We desired access to land because we could grow plenty of fresh food for our family.
Growing food, foraging, creating community, self-love, and intentional family living.
To find our way to food security; we sacrificed cushy jobs, a large pile of savings, an "independent" lifestyle, and a secured retirement plan to experience a woodland environment.
An adventure, a garden!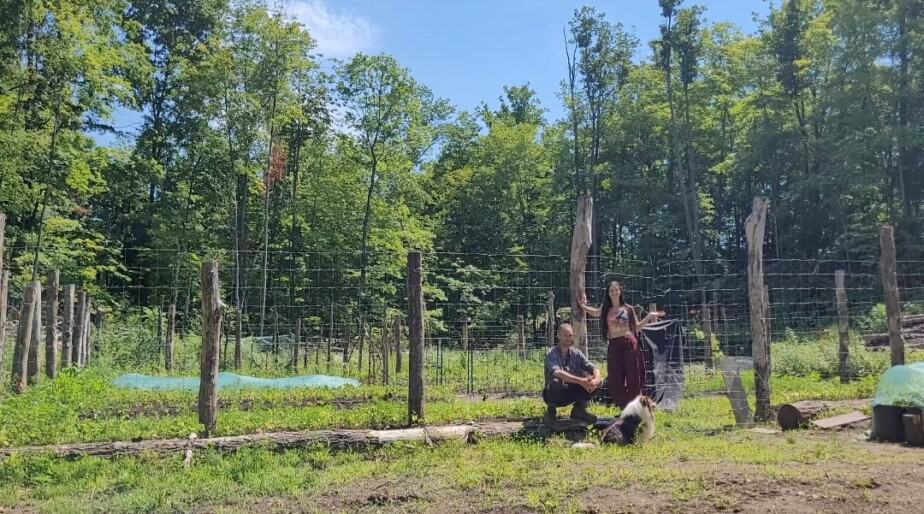 The Start of Food Forest Living
Since 2020 we've been gaining hands-on experience with this land and in July 2022, we officially created a homestead website and named it Food Forest Living.
Our goal is to learn and apply everything we can about sustainable living and create resources that help you achieve similar goals.
To do so, we've had our heads hiding between the pages of Permaculture: A Designer's Manual by Bill Mollison and the Edible Forest Garden books by Dave Jacke and Martin Crawford.
Creeping beyond 3 years already, we've applied our independent book study of permaculture design to our land and continue to gain practical experience.
So far, our goal has blossomed into:
well-researched and experience-based content for this website,
Growing Your Food Goals courses,
eating, storing, and sharing home-grown food,
and involvement with online and in-person homestead communities.
Much more awaits!
---
Helping families get organized to grow a year's worth of food, and maybe sell some too!

Our Food Forest Living Mission
---