This post may contain affiliate links. If you use these links to buy something we may earn a commission. Thanks.
Mushrooms can be sold for various prices based on what area you'll be selling in, whose buying, the quantity in question, and the type of mushroom you grow for sale.
In general, you'll sell gourmet mushrooms from $5-$20 at a farmers market in quantities ranging from 1/4 pound to 1 pound. Active mushroom sellers are 'selling out' at these prices and quantity ranges in the USA and all around the world.
We've grown and sold a wide variety of mushrooms and offered them at various prices based on who is buying and when.
Season and availability are also factors. But to keep things straightforward and simple, you'll learn about popular results based on real and current mushroom sellers.
Yesterday, I asked a dozen people who sell their homegrown gourmet mushrooms at farmer's markets what they offer their products for.
Some sellers have even offered their ingenious techniques to increase their sales, aside from the price offer.
See: 5 Best-Selling Mushrooms to Grow (& Why They Sell Well)
What Is the Best Way to Sell Mushrooms?
A clean, appealing, and efficient process is the best way to sell anything.
Keith, a mushroom seller from South Carolina, offers mushrooms in 6oz berry containers for $12USD. With this technique, he says the 20 pounds that he brings will "sell out every time."
I must agree, it looks so easy and appetizing to pick your own container! (It's also a whopping above-average price to get for selling gourmet mushrooms.)
Additionally, these mushrooms were handled with clean hands! The most common way mushrooms are sold at farmer's markets is a custom hand-picked volume. And right after you pick them from the bin into a fresh paper bag, weigh them, and hand it over to the customer, you'll be accepting cash with your hands or exchanging a debit machine with all your customers.
Finally, pre-weighed containers allow the line to move quickly. The time it takes to weigh a custom request can irritate an eager line if your customer is anything like me! I'll be getting 4 bags of various types at various volumes from you!
Hands laced with the mystery germs of money aren't the best for handling and weighing customers' mushrooms.
How much can you offer in a 6oz berry container?
I weighed my own mushrooms to see, first hand, exactly how many pounds of mushrooms I could offer in a 6oz container. Lion's mane fits a 1/3 pound which could sell for $16 here in Canada or $12 in the USA.
Usually, a 1/4 pound goes for $5-7 USD ($6-7 CAD) and a 1/2 pound goes for $7-9 USD ($10-12 CAD).
A 1/3 pound of mushrooms for $12 USD is a greater margin (fewer mushrooms for more money) than selling by a typical 1/2 pound all because of the presentation style. If it's a sell-out success for Keith in South Carolina, it can be for you too!
Selling your hard-earned mushrooms for a higher cost is a good thing. If you don't find ways to do so, inflation will continue to devalue you, so it's nothing to feel bad about. We could all be rooting to sustain our value.
How much mushrooms are selling for by region
Each region sells gourmet mushrooms at a different price and in their currency. Here is a breakdown of data provided by real and current mushroom sellers from various regions:
Mushroom seller #1:
Area: USA
Buyer: Farmers Market Consumers
Quantity: 1/4 pound to 1 pound
Mushroom type: Various gourmet species: lion's mane, shiitake, oysters, etc
Price: $6-$20 USD
Mushroom seller #2:
Area: Canada
Buyer: Consumers at local markets/farmers markets
Quantity: 100g (1/4 pound)
Mushroom type: Oysters, lions mane, turkey tail, shitake, and wild finds
Price: $10 CAD
Mushroom seller #3:
Area: Australia
Buyer: Farmers market consumers
Quantity: 1 kg (2.2 pounds)
Mushroom type: blue oyster, Australian coral tooth, lions mane
Price: $65 AUD
Mushroom seller #4:
Area: USA
Buyer: Farmers market consumers
Quantity: 1/2 pound
Mushroom type: oysters and lion's Mane
Price: $5 USD
"I sell a little cheaper than what a bigger venue might bring, but I sell out every time."
Mushroom seller #5:
Area: Philippines
Buyer: Consumers at local markets
Quantity: 1kg (2.2 pound)
Mushroom type: oysters
Price: 200-250 PHP
Mushroom seller #6:
"Definitely could sell slightly higher but I like that we are affordable to our customers."
Area: BC, Canada
Buyer: Consumers at farmers markets
Quantity: 1/2 pound
$12 – Oysters
$18 – Lions mane, specialty oysters, pioppino, chestnut
Mushroom seller #7:
Area: Interior BC, Canada
Buyer: Consumers at farmers markets
Quantity: 1kg (2.2 pounds)
Mushroom type: all varieties (oyster, lions mane, shiitake, etc)
Price: $50
Mushroom seller #8
Area: Wiltshire, UK
Buyer: Consumers at local markets
Quantity: 1kg (2.2 pound)
Mushroom type: all varieties (unknown)
Price: 8 sterling
Mushroom seller #9
Area: Slovenia
Buyer: Consumers at local markets
Quantity: 1kg (2.2 pound)
$12 Boletus (porcini)
$15 Chanterelles
Mushroom seller #10
Area: South Carolina, USA
Buyer: Consumers at local markets
Quantity: 1/3 pound (on average)
Mushroom type: lions mane, and oyster
Price: $12
How to sell mushrooms at better prices
Gourmet mushrooms can always be sold at better prices as you learn more about the various aspects that impact prices.
Sell direct-to-consumer
Direct-to-consumer sales are often the most profitable as you sell your product in the smallest quantities. When selling in bulk to distributors or chefs, for example, you'll be selling at lower prices by volume.
This way the distributor or chef would be able to make a profit from their work, and you'll benefit by unloading a larger amount of product and ending up with greater revenue. This is great is you have a large efficient grow-operation.
But if you're a small-scale mushroom grower, you're best off as a small-scale seller! Which is selling small quantities directly to the consumer.
Setting up a farmer's market is one of the few best options to make sales on a small scale.
You could also offer local subscription boxes or set up an Etsy shop or website to sell dried goods online.
Offer high-demand species
High-demand mushroom species may depend on the people in your community.
Exceptions like lions mane, however, seem to be the winners in most areas as they not only taste good but sell themselves by appearance.
See: 5 Best-Selling Mushrooms to Grow (& Why They Sell Well)
When a good is in high demand, you'll likely "never have enough" and therefore, prices can be increased.
Offer rare species
Rare species, on the other hand, can also offer you a higher price as long as the consumer knows about them!
Pioppino mushrooms are one of the most flavorful gourmet mushrooms, but their appearance doesn't sell itself. So to sell this rare mushroom for the price it deserves, you may need to offer up some samples!
Some sellers I've spoken to offer free samples of pioppino's with their purchase of other mushrooms.
Next thing they know, customers are lined up for pioppino mushrooms.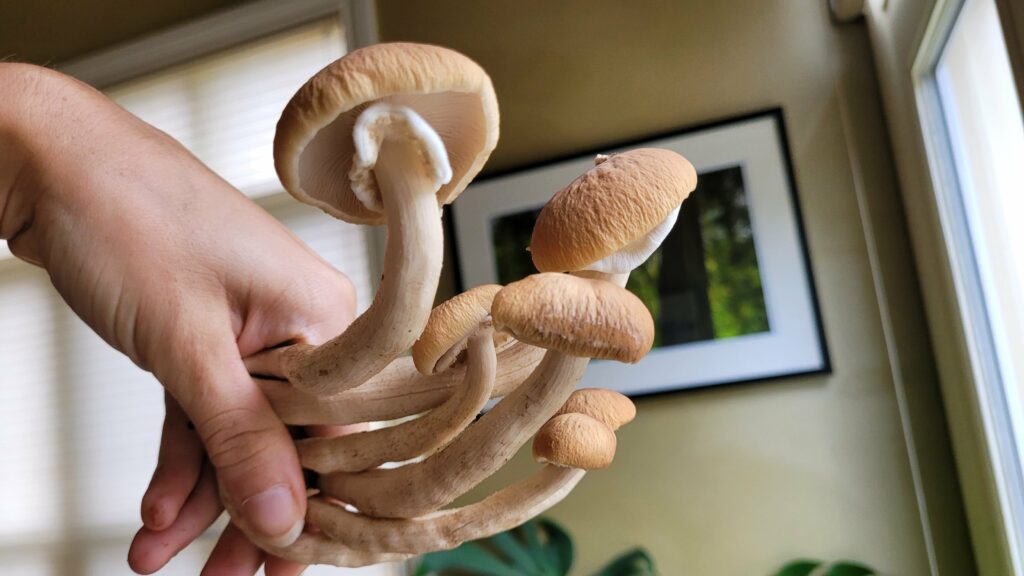 Find an area that doesn't sell the same species
While some areas have a lot of mushroom sellers, a lot of other places have none! Gourmet mushrooms are on the rise in the West and if you find the market you sell at is flooded with the same offers, you'll likely be able to find another spot that isn't far.
If you're the only one around who offers a great product, you'll be able to offer a higher price than if it were readily available at lower prices.
Set up shop in urban areas
Urban areas often have less variety of fresh food.
Rural settings have all the farmers who grow various unique foods. But the general country consumers are used to the diversity so it's less "special."
In an urban setting, gourmet mushrooms are aliens! Therefore, urban communities are more likely to pay higher prices for such an anomaly.
Only offer fresh mushrooms
At a farmers market, I asked if pioppino mushrooms were available once, as they weren't listed that day.
The seller said they had some but they weren't in the best shape. I did really want them so I said I'd take them. As I was buying a pile of mushrooms, I didn't look at them because I trusted he wouldn't give me anything inedible.
When I got home, they were, like he said, not in the best shape. We ate them, but I was surprised he didn't offer a discount, or mention that I should cook them the day I got them. Because If I had waited a couple of days, they would have been compostworthy.
Best Mushrooms to Grow For Profit
Most profitable (edible and medicinal) mushrooms to grow
Recent Posts