This post may contain affiliate links. If you use these links to buy something we may earn a commission. Thanks.
A good journal is a game changer for scattered feelings and difficulties learning to grow plants.
I wondered what makes a good garden journal in my earlier days because I worried about whether I'd even use it. When I got tired of failing in the garden (more than necessary) I made a journal format that I now love to use.
A simple format, consistent entries, and unique data make up the best garden journals. The value is in the format because it must be easy to enter and review data. If that's easy, then you'll be consistent. When consistent you'll build insights about your garden that can't be found anywhere else.
I was horrible at not only keeping consistent records but referring to them later.
But today, my journal tells me more than I thought it ever would—thanks to the formatting. I've been rewarded with bountiful harvests that are meeting my 'growing a year's worth of this and that' goals.
I generally track everything that matters on one main page where I can see everything—instead of flipping page after page to find what I'm looking for.
This is it, this is my favorite page (of 10 useful pages):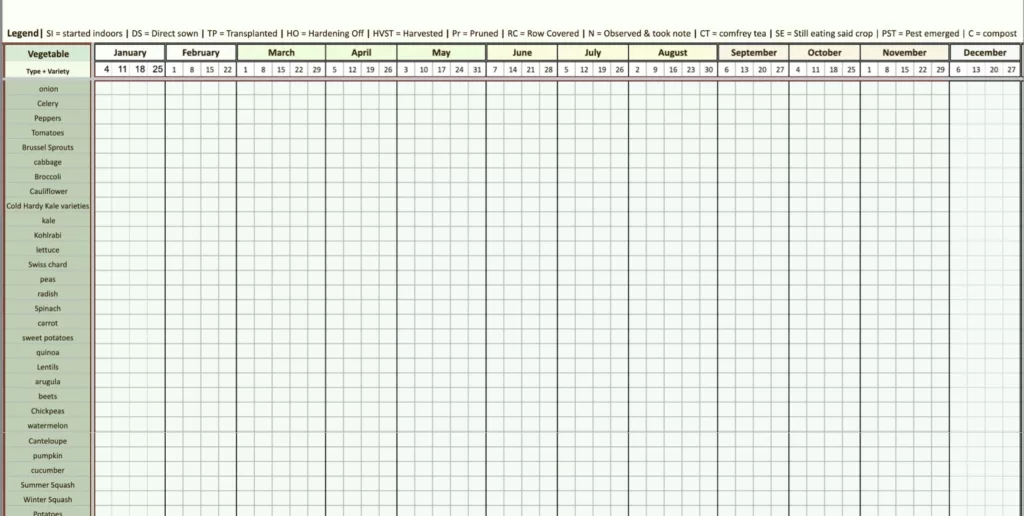 And since overcoming the difficulties of journaling, I am sharing everything:
Why keep a garden journal
What you should put in your garden journal
What you shouldn't put in your garden journal
Why keep a garden journal?
A garden journal isn't just for people who love being organized with pretty paper—it's a tool that every master gardener needs!
And it doesn't even have to be on paper, I use a spreadsheet. But either works better from person to person.
The best reason to keep a journal is to record insights as you experience your garden so you'll have information that no one else can tell you. Leverage this information to do better next time, conduct experiments from start to finish, and prevent repeating silly mistakes.
Silly mistakes are the ones you thought you'd remember not to make again.
To be the best grower you can be, start keeping records of the right information so you can solve better problems.
A good garden journal is as unique as the gardener and garden. So it must track what you want it to track to be a great guide to your journey.
So, what are your goals? What are you struggling with?
Do you want to…
extend your season with row covers? Mark the dates you put on and took off your row covers.
improve your success with growing a particular plant? Describe how you grew it at every stage and where it's falling short.
plant the right number of plants? track how many of each you planted and record what you got too much of or too little of, then decide if it's because it didn't grow well, or if you need more of them.
Those are great examples of items you could track in your journal.
The journal template I made is different from all the rest—it allows you to track everything you possibly want or need with my favorite page (page number 4 and 5).
Here is a tour of the essential pages and what you can do with them.
9 Pages Your Garden Journal Should Have
Here are the 9 pages your garden journal should have to ensure you record the needed information for a winning garden and journal.
Profile
Goals
What to Grow
A Grid System for Scheduling
A Grid System for Journaling
Observations
Harvest Details
Season Summary
Blank Grid for Drawing
Note: When you go to print this journal template, feel free to print extras of certain pages that you think you'll need more of. I only include one of each page to keep the document simple and easy to navigate.
Profile (page 1)
The profile page outlines your frost dates, outdoor space available, indoor space for seed starting, and primary goals.
This information makes garden planning easier as your garden will be built around time, space, and consumption.
Under frost dates, you'll include your:
last spring frost date
spring frost-free date
first fall frost date
# of days between frosts
your growing zone
These dates will affect the timeline of your schedule, and the seeds you choose to sow.
No one talks about this trick – but I thought of it because I had limited indoor seed starting space.
When you determine your outdoor growing space and your indoor seed starting space, you can easily see how much you'll need to direct sow versus start indoors. Knowing this may change what quantities of items you choose to grow in or outside.
Determining the total number of seeds you can start indoors will maximize your peppers, tomatoes, brassicas, onions, and all other long-season garden favorites without the disappointment of running out of room for some.
I hate running out of room because I have been pretty bad at labeling! So, I sometimes don't know what I'm losing when they don't have a spot.
Finally, goals. Set some goals. Think back to last year. What do you want this year?
Goal setting (page 2)
Once you decide on your goal(s) get specific on the next page and write down the thing you'll need to do so they'll get done. The notes will help you recall what may have made it more or less challenging the last time you tried.
Goals for a garden could be anything!
Some examples:
Put all my beds to rest with a black cover after harvesting and clearing any plot to prevent weeds from taking over this year.
Stay on top of pruning tomatoes once every week so we get more fruit from fewer plants.
Use fish emulsion on brassicas every 2 weeks to get bigger plants than last year.
Go through our grocery receipts to see what we buy and eat most to plan a grocery-saving garden.
See: Save Money & Grow the Vegetables That Cost You Most
Goals for your garden could even be infrastructure.
We want to build so many things but it almost seems like nothing gets done unless we pick a few and commit to them.
So pick a reasonable number of major, medium, and small projects you'll commit to finishing this year and leave the rest for next season.
What to grow (page 3)
This may seem like a brain-dead page, but you can get serious about growing the right number of vegetables for a more accurate harvest.
See: Calculate How Many Plants To Feed Your Family for a Year
Get your must-have fruits and vegetables in writing, then calculate how many of each you'll need to grow by following the charts or using the garden-harvest calculator in the above article.
And if you need help refraining from planting things you won't eat, write out what not to plant in a section.
A grid system for scheduling (page 4)
If you think this will be tough on the eyes, it isn't! (Plus the digital version can be as big as you need it to be).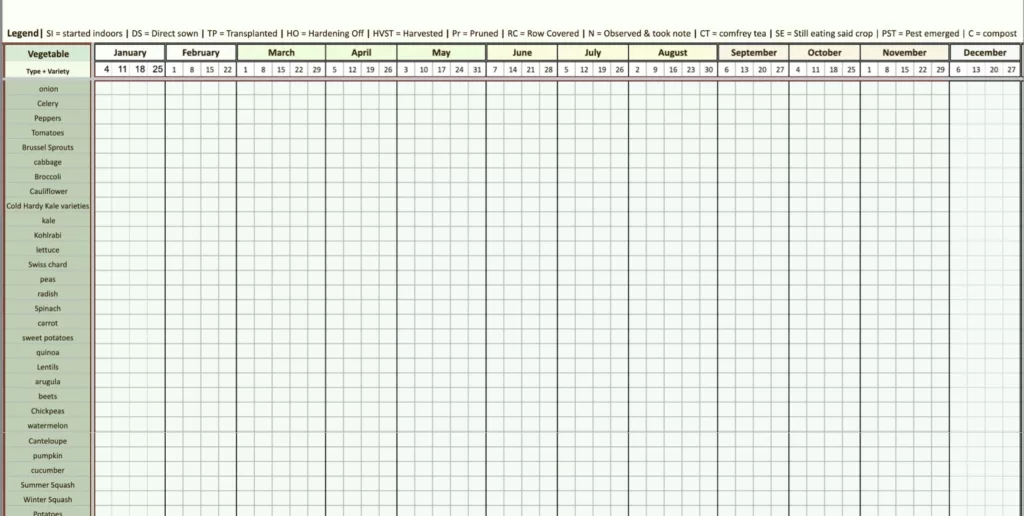 My big secret to an easy season and garden life is this page. On this page, you'll see your whole season of events week-by-week and the insights you gain are endless.
In the journal, I provide you with both a filled or a blank "vegetable" column so you can fill out your own, too.
I provide a filled one because they are somewhat in order top-down on what needs to start sooner than later.
The actual Google Sheet Custom-Climate Schedule (that comes with the journal) has a lot more features and organization than pictured.
It's perfect for beginners who want to go big but feel like they have to go home because timing a garden can be too much to manage around a busy schedule.
Intermediate and advanced gardeners enjoy more experimenting and testing in their gardens with a one-page overview of their whole season.
Here is a portion of what my schedule looks like for this year:
Step-by-step videos are included to walk you through the legend and to customize your schedule properly.
A grid system for journaling (page 5)
For my journal, the bulk of what I need to know is also in a grid format. It's a massive game-changer. No need to flip through pages to interpret different things. It's all here!
The schedule is something you fill out in the planning phase. The grow journal is what you fill out on a weekly basis as you actually do the things on your schedule.
Maybe you did everything, maybe you didn't!
The ability to compare your schedule with your grow journal when the season is done is MASSIVELY valuable.
You'll be able to easily see endless things that no other type of journal will reveal.
Observations (page 6)
Observations can be filled out year-round.
I recommend printing maybe 4-6 pages for observations if you're committing to a full year of observing. (as any gardener should at minimum—to record weather patterns and general conditions of your site to spot improvement opportunities) Use half a page for every month of the year.
Otherwise, 1-2 pages could suffice for irregular random thoughts.
Harvest details (page 7)
Your harvest is the reason you grew a garden!
To improve your harvests you'll want to know what you got and from how many plants.
Staple crops are usually the best for tracking by weight.
For non-staples, you could just jot down a few notes to say if you got too much or too little from a specific number of plants.
Season summary (page 8)
After you cleaned up your garden and put everything "to bed" a few moments to reflect on your overall season could (or should) take up a page of space.
Something I would write on this page, for example, is that 'we love and used mammoth basil more than any other. Moving forward, mammoth basil is all we really want!'
I also jotted down pest behaviors and how we might need to rethink next year's layout to prevent damage. For example, deer left our bug nets alone that were protecting the peppers and brassicas, but seem to be increasingly comfortable, pushing their face into them—next year, keep nets in the fenced area to prevent losing them.
Larger time-scale issues are also worth noting here. For example, we have a gypsy moth problem. This year and last year, they weren't much of an issue. The year before that, they were really bad.
We should be writing this down every year, and over the next decade, we may notice a pattern that we can plan for.
Blank grid for drawing (page 9)
Your garden journal is part of the planning process. This page is for sketching a planting plan. Optional of course, not everyone draws up their garden.
But if you do, I recommend you calculate the right garden harvest for your needs so you can optimize your space according to your family consumption, for big or small areas.
What you shouldn't put in your garden journal
Excessive pages. In my experience, I don't use a journal with too many snazzy pages. If I do use it, I give up on it and have nothing to look back on.
I designed the pages of my garden journal to be like a few best friends—Instead of having a million friends, you have a handful of close ones, and as a result, deeper connections.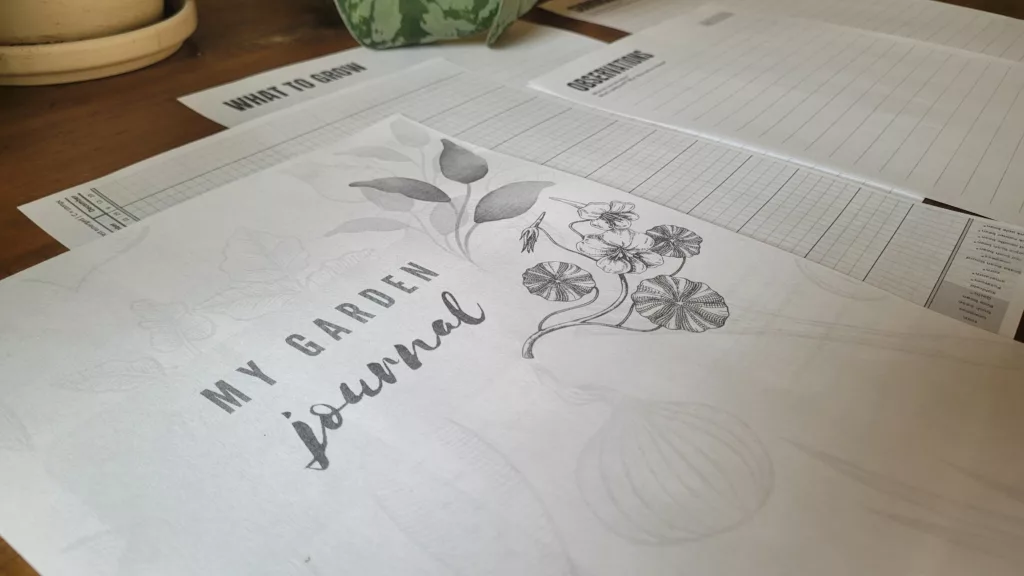 Next: Best Vegetable Garden Spreadsheet to Follow (Google Sheets Planner)
Recent Posts