This post may contain affiliate links. If you use these links to buy something we may earn a commission. Thanks.
You may have heard about the benefits of turkey tail mushrooms and are considering growing your own or finding out if it's even possible to do so!
Turkey tail mushrooms can be grown at home in various ways and the top 3 options can be done in or outdoors. Grow kits are the most beginner way to grow your own turkey tail mushrooms. Containers and log inoculation grow methods are cheaper in the long run for a greater yield.
In our experience, turkey tail is one of the easiest mushrooms to grow no matter the method you choose. Even when we were complete beginners at growing mushrooms, it never failed us.
So what's the best way to grow turkey tail mushrooms, for you? Let's dive in and see how it can be done.
Other easy-to-grow mushrooms: 4 Easy Medicinal Mushrooms to Grow for Healing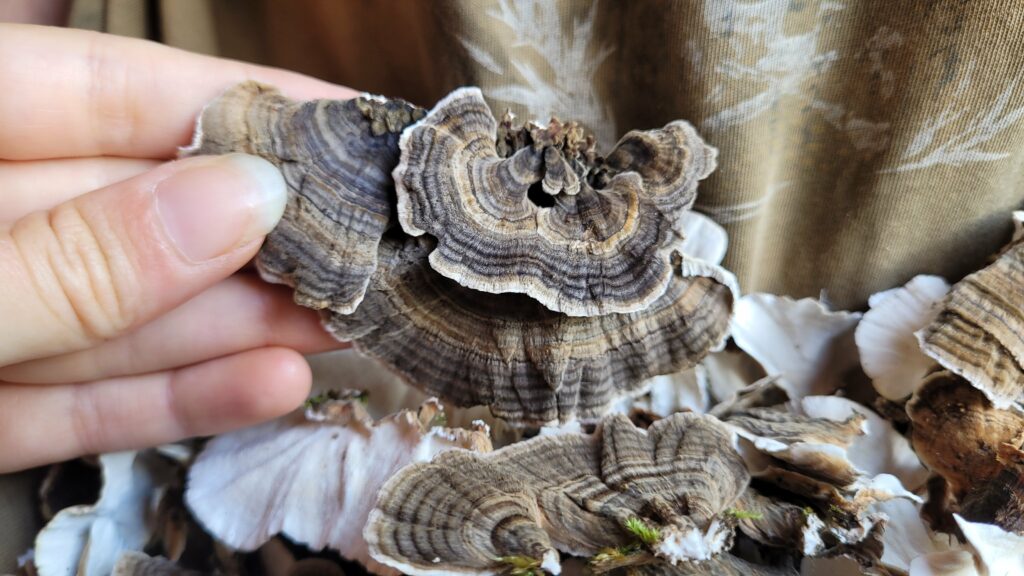 Best turkey tail grow kits or bags
Turkey tail grow kits are the easiest (and most beginner) way to 'trial' turkey tail mushrooms. You'll get 1 maybe 2 flushes from a kit and it'll fruit right from the bag. You'll get about 3-8 cups of tea from this kit.
But if you're set on growing turkey tail then opt for liquid cultures to make your own bags—it's way more bang for your buck.
Liquid cultures come in a syringe that contains the species and you only need to use a little bit to make your own spawn, to then continue making spawn, and using your homemade spawn to make turkey tail bags.
Some liquid culture species require air-tight environments or an expensive flow hood to work with, however, turkey tail is an aggressive species that is very beginner-level. Maintain good cleanliness when handling, and you'll find success without expensive gadgets.
How to grow turkey tail in bags
Turkey tail is commonly grown in bags whenever grown indoors. With a few pointers about inoculating and making turkey tail bags, you'll be able to replicate the process for your own mushrooms.
Best turkey tail substrate recipe
The right substrate recipe goes a long way toward success with turkey tail mushroom cultivation.
100% hardwood chips with 10% sawdust spawn is the best substrate recipe for growing turkey tail in bags, buckets, or barrels. Shape bags into a round cylinder like a tree trunk. Once colonized, it'll take 6-8 weeks for a stipe to form at the top of the bag and that's when it'll be ready to fruit.
Once the bag is ready to fruit, tightly fold and tape the top of the bag down. With a clean knife, cut horizontal slits around the bag in a staggered way, similar to bricks.
Various temperatures are also important to implement at various stages when growing turkey tail mushrooms.
For best results, keep temperatures around 50-60° F (10-15° C) for the incubation period (the time it takes to colonize). When they are ready to fruit, they will need a humidity between 85-90% and a temperature between 50-80° F (10-28° C).
Related: Most profitable (edible and medicinal) mushrooms to grow
Turkey tail on logs (outdoors)
Our favorite way to grow turkey tail mushrooms is on logs. The best thing about log cultivation in a humid environment they are a set it and forget it project.
All you need is a bag of plug spawn and some fresh logs. With your liquid culture syringe, inoculate wooden dowels, and once colonized, plug them into logs!—The same process but with different substrates.
See: How to Use Mushroom Plugs Complete Guide
Not only are logs very passive to grow outdoors, but you'll be harvesting seasonal flushes of turkey tail for years.
Turkey tail grows great on most hardwoods and the thicker log you use, the longer you'll have turkey tail growing from it.
We've been harvesting turkey tail for 2 years on 3-inch thick logs. We suspect to get 1-2 more years out of them! Before we run out, we will make new logs to replace them a year in advance to their expected halt in production.
It takes 6-12 months for a log to be colonized by most mushrooms before you'll see fruit.
Related: 9 Best Mushrooms to Grow on Logs (From Easy to Hard)
When growing mushrooms outdoors, be prepared to verify their identity upon harvest!
See: Identify Turkey Tail (2 Steps) A Straightforward Guide
Turkey tail in containers (in or outdoors)
Mushrooms are grown in containers of various sizes. The 55-gallon barrel, however, is a special and somewhat "secret" size. . .
Except for the fact that I'll be telling you all about growing mushrooms in barrels, so it'll no longer be known about by so few people.
Benefits of growing mushrooms in 55-gallon drums
Growing mushrooms outdoors just got easier.
Especially if you don't have a suitable space to host logs or find healthy ones to inoculate!
Growing mushrooms in buckets is relatively popular, but only a few mushroom cultivators have experimented using barrels—and Brandon Verhnjak is one of them!
His motivation is based on the idea that "Barrels seem better than buckets as they are about double the size and should last many years of use."
With a bigger container, you'll do the same type of work, but less often and for a bigger and longer-term reward.
Where to put mushroom barrels
Mushroom barrels simply need any spot with consistent shade. The shade will help prevent the barrel from absorbing too much heat in summer and as the temperature swings back down to cold, they will likely fruit for longer than expected, as larger units generally retain heat.
To compare, mushroom logs need help retaining moisture which requires an area that serves a specific combination of needs—shade, access to rain/snowfall, and humidity all at the same time.
Barrels have also proven to be more user-friendly and versatile when compared to logs.
Since barrels can be put anywhere with shade (covered or uncovered from rain and snow) you can put them in spots where logs couldn't be. Therefore, you have more options.
Brandon shared that one of his barrels sits under the shade of a large fig tree on his deck—"I need to be able to pick fruit from my fig tree so having them In barrels makes it that if needed I can just move them aside and do my thing and then move them back."
His barrels are also on dollies (caddies) so he doesn't have to pick up or lean and rotate them to move aside. Rolling a barrel aside, whether on wheels or by tilting it, is certainly easier than moving and restacking multiple heavy logs!
Making mushroom barrels
Brandon has a specific method when it comes to growing mushrooms in barrels. His methods have worked for lion's mane, pink and yellow oysters, and turkey tail mushrooms.
To make mushroom barrels; mix hardwood pellets "with 3.5 liters of cold water to 2 kg of hardwood pellets" in a clean garbage can. In your barrel, alternate layers of the pellet mix and mushroom mycelium until the barrel is full. 4lbs of mycelium sawdust spawn is used per 55-gallon drum.
Sawdust spawn is available from various companies. Grow Mushrooms Canada is popular among Canadians, and Northspore is available at a discount (Qualityspawn) to all of North America.
For more about how to customize the actual barrel, Brandon has a video tutorial coming out soon!
Conclusion
Growing mushrooms in bags is best for indoor cultivation, but many growers also use bags to grow in greenhouses.
If you'd rather reduce single-use plastics, going for buckets or barrels is an alternative whether you plan to grow in or outdoors.
Buckets and barrels need a thorough soapy cleaning and isopropyl alcohol spray between each use.
Mushroom logs are best suited for outdoor growing and compost-making. For the most "natural" and useful approach, mushroom logs are wonderful contributors to a garden. Logs are optimal for those who have steady access to fresh healthy hardwood trees.
Turkey tail grows well using any of these methods, even when using logs that aren't "optimal."
Choose your growing method based on what resources and space is available to you!
Other easy mushrooms can be grown using these methods as well.
See: 4 Fail-Proof Mushrooms to Grow Outside
Up Next:
Recent Posts